Virtual Design & Construction
Virtual Design and Construction (VDC) is the technology that creates digital models of buildings and project sites to move your idea into a three-dimensional representation.
VDC is an indispensable tool allowing our architects, engineers, and builders to visualize and plan designs, processes, schedules, and budgets.
Building Information Management (BIM) is the bedrock of the digital transformation that has redefined the architecture, engineering, and construction (AEC) industry. Involving several design tools and methods, it assures every phase of design and construction is efficient, safe, and cost-effective.
Our Virtual Design and Construction department is a collaborative group of innovators driven by simplifying complex projects. Using the latest technologies and 3D software to capture accurate information, we're able to plan, develop and adapt the design to improve constructability.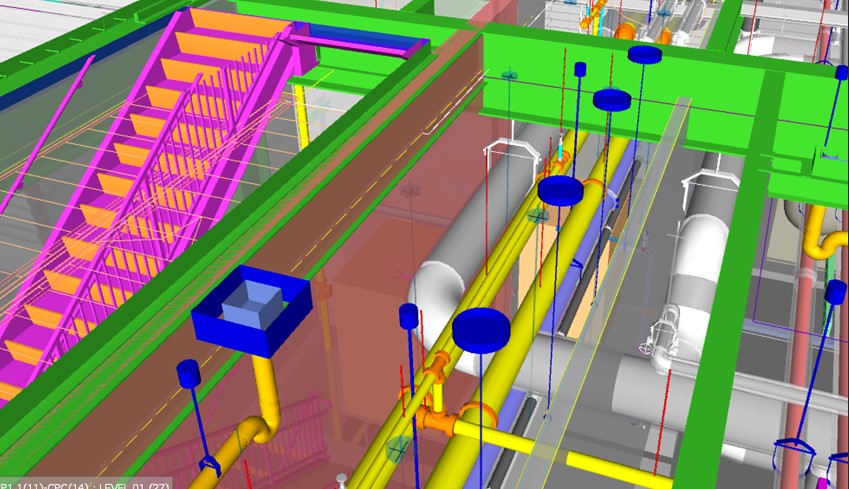 While VDC is crucial in the planning stages, it can also help reduce construction work that may be implemented in the future.
Creating an immersive preview using Building Information Modeling (BIM) during preconstruction allows our team to make decisions ahead of schedule to improve quality, safety, schedule, and budget. VDC makes use of BIM models for planning construction from start to finish.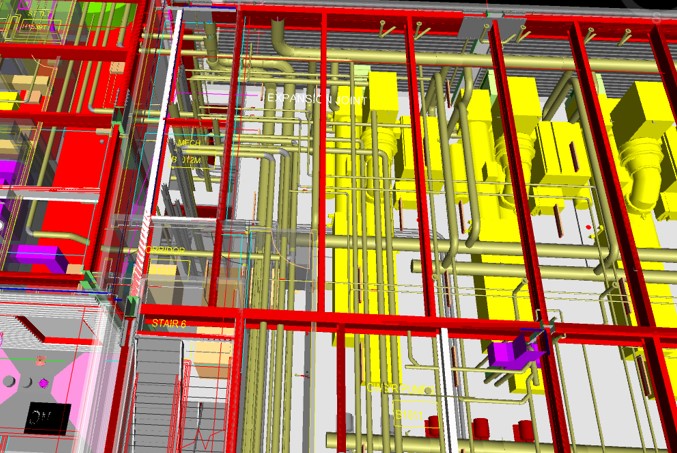 The BIM images on this page are from one of our projects where configuring all the elements was only possible with this immersive preview.
The images show a corridor in the basement of a client's facility and the main MEP shaft from the central utility plant into Level 01. There were multiple elevation changes needed to make the utilities fit in the shaft. The exhaust duct needed to be routed outside of the corridor to allow the supply to drop lower. Once the exhaust and supply are shifted accordingly, the sanitary piping will move up and be above the supply duct. The mechanical pipe will shift to the north of the corridor.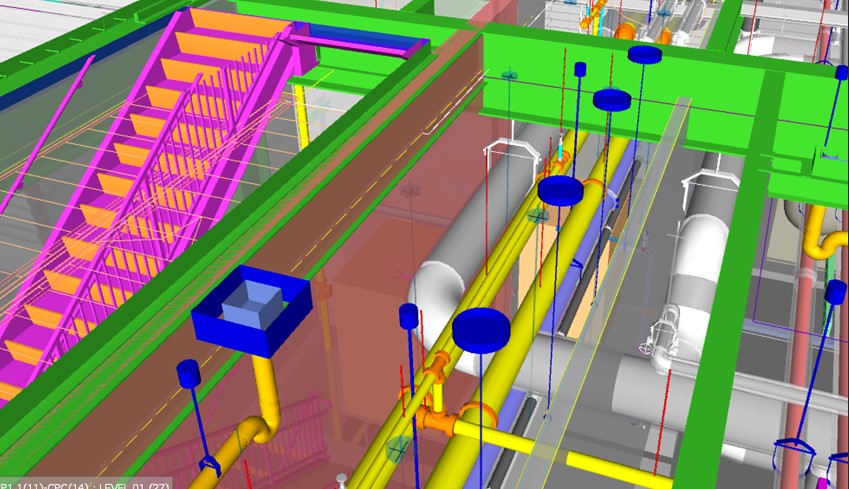 Service Offerings:
Our VDC services provide significant opportunities in the following ways:
Provides real-time feedback as the design progresses
Allows more accurate cost estimates, cost-savings options
Promotes communication between design and construction teams
Shortens project schedule
Enhances quality
Offers immersive visual representation to help with decision making
Ready To Get Started On Your Next Project?
See how we can help you with your Virtual Design & Construction needs.